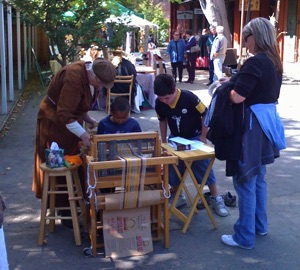 Mother Lode Weavers & Spinners
The Mother Lode Weavers and Spinners are a part of the CNCH (Conference of Northern California Handweavers ) Area 2 Central Valley Guild.
We are located in the beautiful foothill town of Sonora California. We meet at the Church of the 49ers in Columbia on the second Tuesday of the month; we do not meet in July and August.
The guild meetings consist of a business section followed by a program featuring a technique or something along the fiber interest line.
The guild is also committed to sharing knowledge and continued learning. We participate in public events and conduct workshops. There is a spinning group that meets at members homes on the fourth Tuesday of the month.
Become a Member!
The dues for our guild are kept at a reasonable $30.00 per year ($35.00 if getting the newsletter by mail or for a family). We try to keep all our costs at a reasonable rate. Mail dues to: MLWS Guild • PO Box 403 • Columbia, CA 95310. Our year begings in September.
Members are sent a monthly newsletter, borrow from the guild library and are eligible to rent a variety of weaving and spinning equipment.
If you have questions or need more information our Contact page offers multiple ways to accomplish that.
Studio 49 is an offshoot of the guild.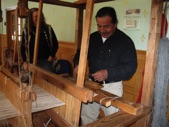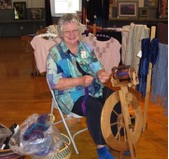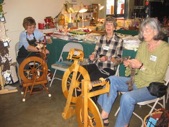 A loom is set up at the Festifall in Columbia State Park each year.
Children try their hand at weaving.
Once completed it is cut into bookmarks and sent to the child.
Some look forward to it and return yearly.